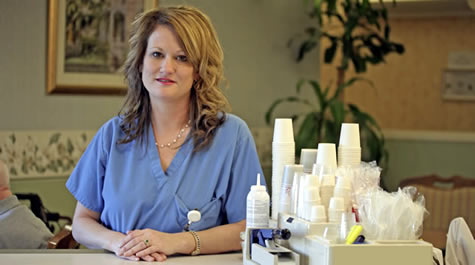 The OHCPS Difference
Individualized, personal, reliable service… Our service is what sets us apart
Comprehensive medication delivery system
Complete billing services
24 hour/seven day emergency services
Regularly scheduled deliveries including emergency/STAT deliveries
Quality assurance programs
Annual educational event offering continuing education for Illinois Administrators and Nurses
There are other pharmacies, but there's only one Oregon Healthcare Pharmacy Services.
Our individualized, friendly service sets us apart from national chains and independents alike. In fact, in a recent survey of our customers, more than 9 out of 10 called their overall satisfaction "very good" or "excellent," with an average customer satisfaction rate of 4.9 out of 5.
We work with skilled nursing homes and intermediate care facilities, MR/DD organizations, CILA providers, assisted living facilities, Alzheimer and dementia care facilities, hospice organizations and correctional institutions in Northwest Illinois.
Let us serve you and your residents. Experience the OHCPS difference.


Pharmacy Services
From our pharmacists to our office staff, our skilled and friendly employees go out of their way to give you a better pharmacy experience. You will experience the exceptional service we provide in everything from individualized medication packaging to the way our staff know your name.
Our personal touch leads to improved communication between your organization and our pharmacy, resulting in more accurate billing and decreased medication errors. Now featuring DocuTrack and QS/1 WebConnect processing.


Consulting
Our consultant pharmacist and nurse consultant act as members of your team, offering advice and education on patient outcomes and quality of care. We consult on routine drug regimen and drug utilization reviews, psychotropic drug reduction monitoring, survey preparedness audits, med pass observation, and more. All OHCPS clinical pharmacists are PharmD and CGP certified.
We also provide nursing and facility staff education and in-service training.
Oregon Health Care Pharmacy Services, Inc.
1100 Pines Road * Oregon Illinois * 61061
Phone: 866-LTC-MEDS 815-732-1422 * Fax: 815-732-9074
Copyright 2017 All Rights Reserved